What's New
Resources updated between Monday, November 17, 2014 and Sunday, November 23, 2014
November 23, 2014
November 22, 2014
U.N. Covers Up Sudan's Bad Behavior in Darfur
"Late last month, a senior U.N. investigator scolded officials with the joint U.N.-African Union peacekeeping mission in Darfur, UNAMID, for repeatedly withholding evidence of alleged Sudanese government crimes against civilians and peacekeepers.

Clearly, UNAMID didn't get the memo.

Earlier this month, the mission issued a press release indicating that a probe into local media reports alleging the mass rape of some 200 local girls by Sudanese forces in the village of Tabit, in northern Darfur, turned up no evidence of wrongdoing...

UNAMID's sunny account of the mission's findings omitted extensive evidence of Sudanese government attempts to keep the peacekeepers from actually mounting a serious investigation into the rape allegations...

[T]he report left out damning evidence pointing to a concerted effort by Khartoum to undermine the UNAMID probe.

For instance, the confidential report found that the Sudanese government and military prevented the U.N. investigators from reaching the site of the alleged mass rape for more than 10 days, severely constraining their ability to collect physical evidence of sexual assault. Sudanese troops fanned out across the town in a show of strength and intimidation. Uniformed Sudanese officials also followed the UNAMID investigators as they broke up into several teams and spread out about the town to interview potential eyewitnesses, interfering with their ability to elicit honest answers...

'Some of the sub-teams reported the interviews being captured on recording devices (mobile phone) by the [Sudanese armed forces],' according to the report, first obtained by Agence France-Presse. 'The behavior and responses of interviewees indicated an environment of fear and intimidation. Some of the sub-teams had to ask the military personnel to stop following them and also asked them to allow the conduction of interviews in some privacy.'

A local teacher cited in the report said that Sudanese officials had warned locals not to cooperate with the investigation. The end result, according to the report, was that 'the public was shy to openly discuss the allegation of mass rape.'...

[A] top Sudanese official told reporters that the United Nations would not be allowed to return to Tabit to investigate the allegations."
"Please Don't Abandon Me"
"Yesterday, I returned from the prison in Multan where my wife, Asia Bibi, was transferred eight months ago. Since Asia was sentenced to death in November 2010 for drinking a glass of water from our village well, my family has lived in constant fear and under death threats. I live in hiding with my five children as near as possible to Asia. She needs us very much to help keep her alive, to bring her medicine and good food when she is sick."
"Please Don't Abandon Me" Document
November 21, 2014
"The president of Gambia has signed a bill into law that calls for life imprisonment for some homosexual acts, the latest African country to codify harsh penalties for the gay community.

"A copy of the legislation, which was obtained by The Associated Press on Friday, indicates that President Yahya Jammeh signed it on Oct. 9, though no government officials have yet publicly notified the country of the new law. Jammeh, one of Africa's most vocal anti-gay leaders, instructed gays and lesbians in 2008 to leave the country or risk decapitation.

"Lawmakers approved the legislation in August, prompting an outcry from organizations including Amnesty International and Human Rights Watch. The law contains language identical to an anti-gay bill signed into law in Uganda earlier this year but later overturned by a court on procedural grounds.

"It criminalizes 'aggravated homosexuality,' which targets 'serial offenders' and people living with HIV or AIDS. Suspects can also be charged with aggravated homosexuality for engaging in homosexual acts with someone who is under 18, disabled or who has been drugged. The term also applies when the suspect is the parent or guardian of the other person or is 'in authority over' him or her.

"People found guilty of aggravated homosexuality can be sentenced to life in prison..."
November 20, 2014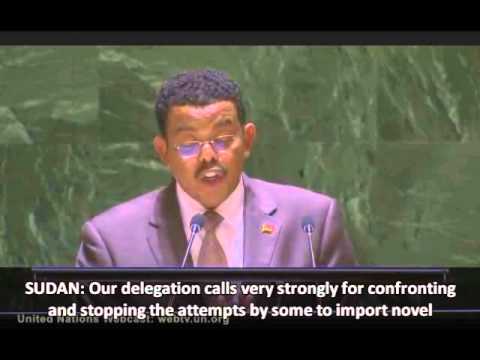 Watch Video
UN "Human Rights" Talk on LGBT Persons
UN "Human Rights" Talk on LGBT Persons Development
Support for terror from UNRWA teachers & and school principals
Support for terror from UNRWA teachers & and school principals
New Scandal Envelops UNRWA as Employees Praise Jerusalem Synagogue Atrocity
New Scandal Envelops UNRWA as Employees Praise Jerusalem Synagogue Atrocity
November 19, 2014
"Two Palestinians attacked a synagogue in Jerusalem, killing three American-Israeli rabbis, a British-Israeli rabbi and a policeman and shifting the focus of violence to deep within the heart of the Jewish half of the city.

"It was the deadliest attack on Israelis in Jerusalem in six years.

"The assailants, armed with a rifle and butcher knives, targeted the Kehilat Bnei Torah synagogue in the ultra-Orthodox Jewish neighborhood of Har Nof on Tuesday. The area is far from the line that divides Jerusalem's Arab and Jewish halves, which has been the focus of a raft of other attacks since July. Police said they traded gunfire with the attackers for several minutes before killing them.

"The scale and the targeting of worshipers in a synagogue rattled Israelis more deeply than any other attacks recently in the city. Jerusalem has been roiled by unrest for more than four months, fanned by a feud over the city's most sensitive holy site, the Temple Mount.

"The two attackers entered the synagogue at about 7 a.m. as some 30 people were praying, and began stabbing worshipers before opening fire, the foreign ministry said. As witnesses entered the synagogue, they found worshipers dead, wrapped in prayer shawls sprawled on the floor in pools of blood.

"'I felt like I was in a butcher shop,' said Albert Albukai, a medic who heard the gunshots while praying at a neighboring synagogue. He said he saw worshipers who had been stabbed in their necks.

"'They were all slaughtered; at least four were dead. We could do nothing for them...'"


Jerusalem Attack Shakes Israel Document
November 17, 2014
Kingdom of Saudi Arabia bans 'alluring eyes' of women
"As per a new law in the Kingdom of Saudi Arabia, a ban has been imposed on 'tempting' eyes of women.

According to the latest diktat, any women with 'alluring eyes' will have to wear a full veil.

Defending its decision, Sheikh Motlab al Nabet, spokesman of the Saudi Arabian Committee for the Promotion of Virtue and the Prevention of Vice, said that the government has the right to force women to cover their faces.

'The men of the committee will interfere to force women to cover their eyes, especially the tempting ones. We have the right to do so,' the metro.co.uk quoted him as saying."
Kingdom of Saudi Arabia bans 'alluring eyes' of women Document